The key concept of counter cycle investing is you should be fearful when others are greedy, and greedy when others are fearful. It's a well-versed quote from Warren Buffet, modern history's most successful investor. 
Apply this to Brisbane property markets, and it indicates you should be buying certain assets when others are avoiding them. It's a time-proven way of building equity and taking advantage of market peaks and troughs. 
I can tell you that right now there's a golden opportunity in the Brisbane market. It's both affordable and primed to run hot – but the chance to buy at a rock-bottom price is slipping away. 
What I'm describing is older residential units.
For years now these units, constructed mostly in the 1970s, 80s, and 90s, have been ignored by buyers… but I think their time has finally come. 
Here's why you should seriously consider getting into this property type.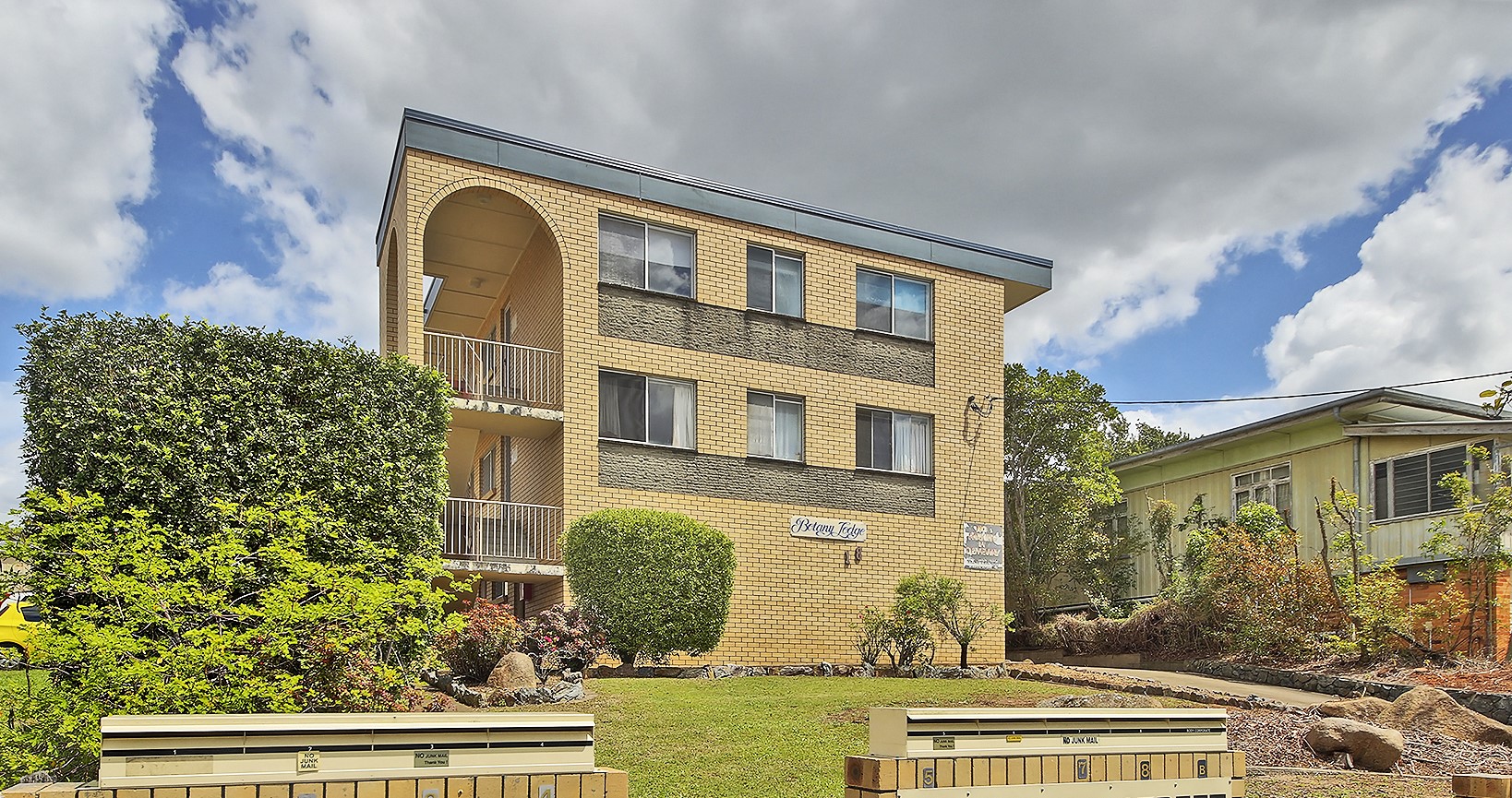 Above: Low-rise/three-story
walk-up
complexes.
You know, the old 's
ix-pack
'
design.
Why they work
'Good bones' are foundational for excellent real estate. Older units may not have the aesthetic appeal of new builds, but they still offer several key advantages. 
For one they are, on average, larger than more modern stock. With built-in robes, sizeable bedrooms, practical living areas, and great balconies, older units in Brisbane suburbs make for very liveable spaces. 
The best units are normally in low-rise/three-story walk-up complexes. You know, the old 'six-pack' design. There are many of these types of units in Moorooka, Annerley, Fairfield, and Greenslopes for example. 
These units are usually well located in relation to service and facilities too. For numerous reasons around town planning and convenience, developers sought to build complexes within easy reach of public transport, as well as retail and lifestyle amenities. 

Above: Bathroom renovations
in older units can have
a huge impact
on the sale price. This
unit
in Annerley is
a great example
of adding value.
Another terrific thing about old units is that they are cheap and easy to cosmetically renovate. It's incredible what a coat of paint and some new floor covering will do for these spaces. Add in a new kitchen and bathroom (all within a budget of course), and you're on a winner. Walk through the door, and it's like being in a whole new home – and if it's an investment, these works will attract renters willing to pay a premium. 
Finally, older units often have very reasonable body corporate fees. While I acknowledge common area may need some repairs and maintenance, the unit blocks itself is rarely that complex. Don't expect to find elevators and pools eating into the body corporate budget. 
Modern renovation on a 70's brick unit in Waldheim Street, Annerley. Older style units are easy to
renovate,
and improvements contribute significantly to the "wow factor" when selling.
Why now?
The main reason I believe these units offer some of the best opportunities in the Brisbane market right now is because of price relativity. 
You see, units are mostly seen as an affordable alternative to detached housing. Historically, the relative price difference between a house and a unit remains reasonably constant. 
But look at what's happening in Annerley, Moorooka, and Fairfield right now. 
Realestate.com.au numbers show that over the past 12 months in Annerley, the house price median has risen 35.1 per cent to $1.077 million, while the unit median has gone up just 9.7 per cent to $470,250. 
The same measure for Moorooka shows houses rising 30.5 per cent higher with a median of $920,000, while units saw a 17.8 per cent jump to be at $430,000. Fairfield's gap is even wider. A 39.2 per cent growth in the house price to $1.18 million compared to a 4.1 per cent gain to $505,000 for units. 
This disparate growth is a signpost that units are due for a catch-up. 
The other consideration driving demand is their low-entry price point. Cost-of-living increases and rising interest rates will make affordability a huge factor in buyers' decisions over the coming year. Expect more purchasers with tight budgets to flood into the unit market in 2022. Among them will be a plethora of first home buyers keen to take advantage of federal government subsidies too. 
Finally – when it comes to starting a property portfolio, units are an excellent first-purchase foundation for first home buyers. After living in your unit for a year or two, don't simply sell it and move on. Instead, look to take advantage of its value growth and refinance the equity into your next property. Then, keep the unit and rent it out. These properties are loved by tenants. 
Also, Brisbane's vacancy rate is now around 1.0 per cent, which indicates rising rents are on the way. Another sweetener for unit buyers. 
If you're in the market for an affordable home or investment in Brisbane, you really should consider purchasing an older unit in Annerley, Moorooka, or Fairfield. There are plenty of options across the property market right now, but don't expect prices to remain this accessible for long. 
If you have an older unit and would like to know what it might sell for, please feel free to contact Russell Matthews on 0417 882 180 or email for a free property appraisal.