Family Business Australia had recognized the achievements on Matthews Real Estate as a family owned and operated business which positively contributes to our community, economy and culture.
The FBA Chapter Hall of Fame is a highly regarded, peer commendation bestowed at state level on outstanding local family businesses. Nominees are selected against criteria including industry excellence, successful transition to a succeeding generation and a history of business activity that reflects well on their reputation within the community.
Fourth generation Matthews real estate agent Kerry Matthews says the local community respects and gets behind family business. "Being inducted into the Hall of Fame for Family Business Australia is a great honour and something of which our family and staff can be extremely proud. This year, we celebrated 86 years in business and we couldn't have been around this long, without the incredible support and loyalty of our local community."
Family business accounts for around 70% of business across Australia, but only around 3% of family businesses make it into their fourth generation, as Matthews have done.  According to  FBA, family businesses have their own unique set of issues including communication between family members, letting go of leadership / control in succession, providing liquidity for family owners to exit, securing adequate capital for growth and retirement.
Trevor Matthews, Principal of Matthews Real Estate, says these issues have been more prevalent now than they were years ago when he became the "accidental" business operator. "I was only 20 when my father died and I really didn't have much experience in the industry. His death launched me into the role of Principal and I had to figure it out as I went along. If it weren't for a few trusted business advisors that my father knew through the REIQ, we may have had to pack it in back then. We're lucky now as we go through a proper succession that we are able to lean on the FBA and other trusted advisors once again for assistance."
Matthews Family members and FBA Hall of Fame inductees Michelle Clair, Lynn Matthews, Trevor Mathews, Russell Mathews and Kerry Forsythe accepting the award at the FBA Awards Dinner in Melbourne in September 2019.
Family Business Australia is the peak body for family-owned Australian businesses providing access to education and training, family specific and general business development, and generates networking opportunities.
See Trevor's acceptance speech on the video here.
19 September 2019 marks family business day.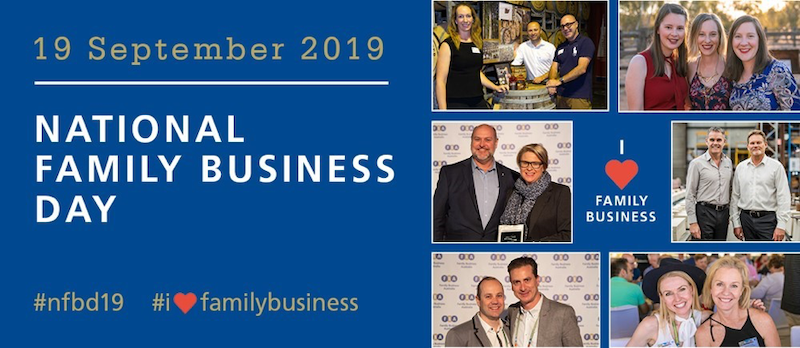 On the 19th September, Australia celebrates National Family Business Day, a day designed to recognise the invaluable contribution family businesses make to the Australian economy, community and culture.
Matthews Real Estate will be celebrating with a morning tea and you're welcome to drop in and join us at 678 Ipswich Road Annerley! Thursday 19th September from 10am.